Youth Ambassador Program
Join our Ladybird Animal Sanctuary Kid Community!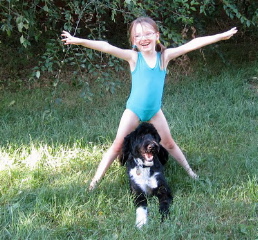 This program is for kids ages 16 and under (with written permission from a legal guardian).
Complete only ONE of the tasks below to become an Ladybird ambassador.
For your birthday party, instead of gifts, ask your guests to donate to LAS.
Make a presentation to your class about animal welfare and its importance within your community.
Have your family adopt a rescue animal from Ladybird or any other organization. Write us a letter describing this experience and why you believe that choosing rescue over pet stores and breeders is important to you.
With the support of your family, foster an animal through LAS. Keep a journal throughout your fostering experience and submit a copy of this to LAS.
Have you done something heroic for the welfare of animals? Tell us all about it in a letter and Ladybird will make you an ambassador.
Organize a bake sale at school, church, your neighborhood block party or anywhere you want! Donate what you raise to LAS.
With the support of your family and some healthy tips from LAS, go vegetarian for one whole month (or even longer). Document your experience in a journal and submit a copy to Ladybird at the end of the month.
Have you done something that you believe should qualify you in the Ladybird Youth Ambassador Program? If there's something that's not listed here, tell us about it in a letter and we will consider you for our Ladybird kid community.
What does being an Ladybird ambassador mean?
You will be recognized as an Ladybird youth ambassador on our website at our 'Kid Community Corner'. A photo and description of your accomplishment will be posted.
A certificate with your name and new title will be sent to you along with some other Ladybird goodies!
You will win a chance to name one of our animals!
You will be honored at one of our annual Ladybird events with free entrance for you and your immediate family.
If you would like to participate in this program, contact us!