Oliver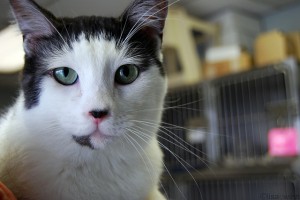 STATUS: Adopted AGE AT ARRIVAL: Adult ARRIVAL DATE: December 2010 ADOPTION DATE: February 2012 SPECIES: Cat BREED: Domestic Short Hair GENDER: Neutered Male LIKES: DISLIKES:
Oliver has a virus called feline leukemia that could one day affect his immune system. At the moment, he's just fine, other than a chronic upper respiratory infection (that means, he gets sneezy sometimes). Feline leukemia can be spread from cat to cat by saliva, so Oliver should be the only kitty in his new home. He can live with other cats who are positive with the virus though. The virus cannot be spread to dogs, small animals or humans.
He was rescued from a shelter where he was going to be put to sleep because of the virus he has. Shelters have a hard enough time finding homes for healthy animals, and often don't have isolated areas where cats with conditions like Oliver's can be housed without exposure to other cats.
Oliver was in a foster home for quite some time, then his foster home decided they just couldn't live without him, and they officially adopted him. Yay Oliver!
Here is a video of Oliver when he was still at the shelter.
You can see how friendly he is!