Kyle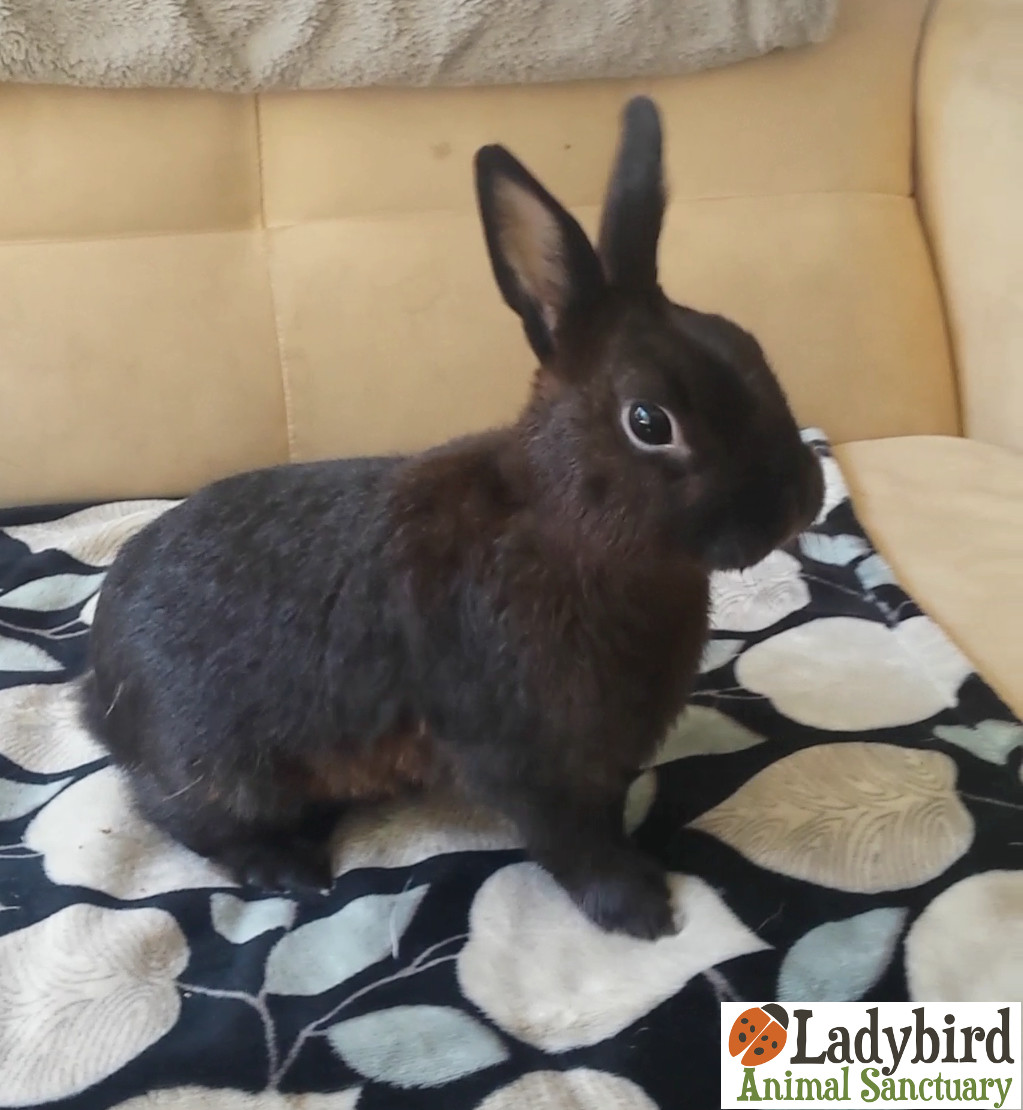 STATUS: Adopted AGE AT ARRIVAL: Approximately 1 year ARRIVAL DATE: October 6th, 2016 ADOPTION DATE: April 4th, 2017 SPECIES: Rabbit BREED: Dwarf GENDER: Neutered Male LIKES: DISLIKES:
Kyle's foster home became his forever home! Yay Kyle!
We rescued Kyle from Mississauga Animal Services. Kyle was brought into MAS after being found on the street in a box. He's a sweet and curious little bunny and he'll make a lovely companion for the right home.
Here's a report from Kyle's foster home:
"Kyle is quite the bold little bunny, who absolutely loves to stretch his legs and explore. At first, he took some time to settle in to his new home, and was very timid. But with patience he became extremely confident, and now loves to take on new challenges. He has no fear of our cat and large dog, and seems to enjoy playing tag with them. Kyle also really enjoys climbing furniture, finding new hiding spots or toys. Unfortunately, one of his new favourite things to chew are cords and wires, so we have had to limit some of his free time. However, with the right setup and enough toys to keep him busy, he seems to be adjusting just fine!
Kyle enjoys his free time, and gets plenty of it. He has free range of the house whenever someone is home,and takes full advantage of his adventures. He is also fantastic with using his litter box, and has never had an accident. He loves cardboard boxes, and uses them as both a hideout and a chew toy. He is always entertaining, and it has been wonderful to watch him come out of his shell and start to really enjoy life!
Kyle is still getting used to people, and while he seems to enjoy being around us, he isn't a huge fan of being picked up. He does certainly like to come say hello, sit on the couch, or play with our feet though! Since first arriving, he has made huge strides and I'm sure he will continue to do so with a loving family."
Our fostered rabbits are housed in x-pens or similar enclosures so they have lots of room to move around when they aren't out for floor time. Commercially made pet store rabbit cages are far too small to allow rabbits to stretch out and move around with ease.
Here are some great websites outlining alternative rabbit housing using x pens and similar enclosures.
sandiegorabbits.org
hopperhome.com
therabbithouse.com
Pinterest- Rabbit home ideas
---
Kyle was featured on CHCH Morning Live!