Ruban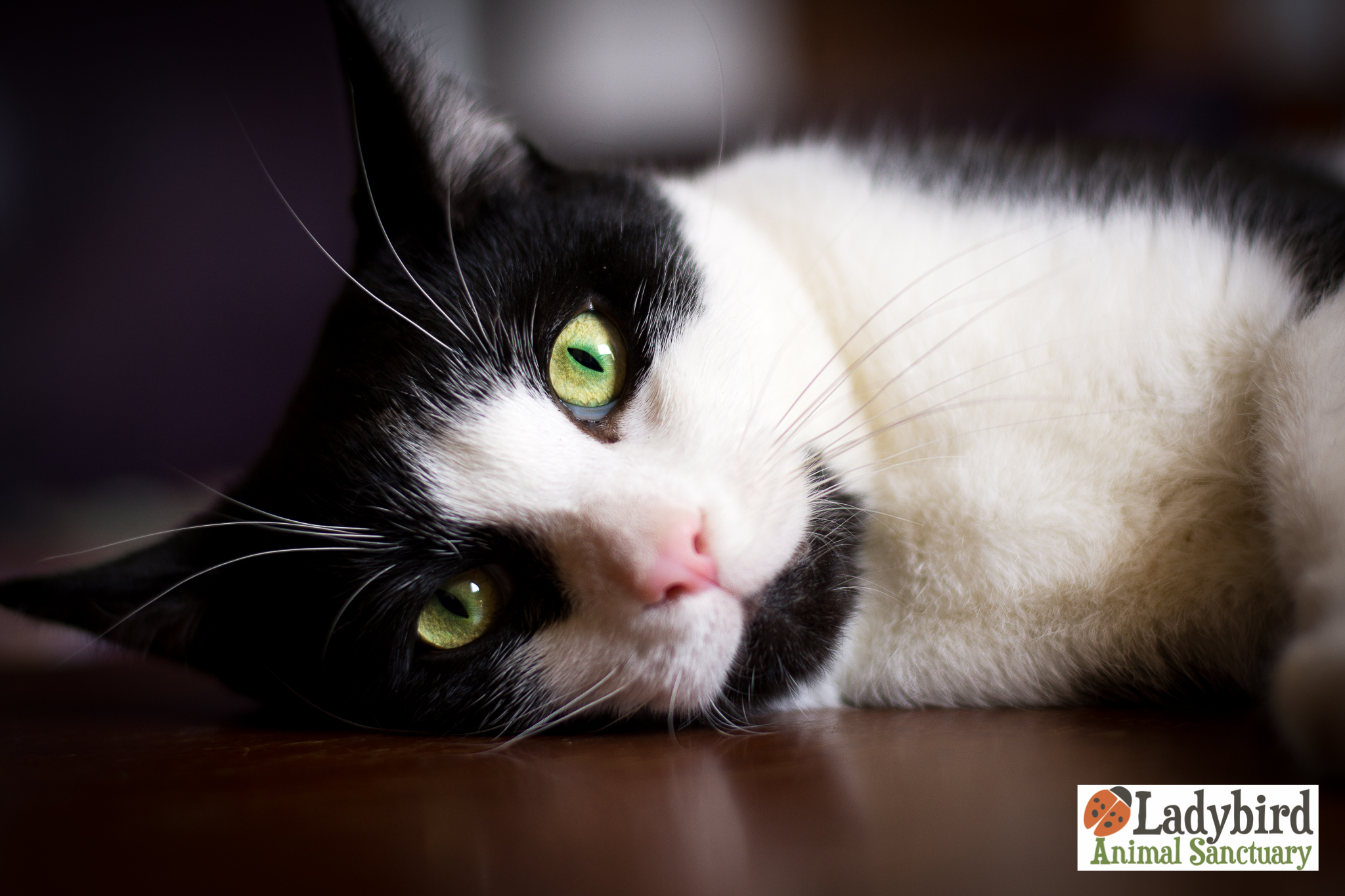 STATUS: Adopted AGE AT ARRIVAL: Approximately 2 years old ARRIVAL DATE: May 16th, 2017 ADOPTION DATE: March 5th, 2018 SPECIES: Cat BREED: Domestic Short Hair GENDER: Neutered Male LIKES: DISLIKES:
* Ruban and Jake found their forever home with lovely people! *
Ruban was found wandering the streets of Hamilton with duct tape wrapped tightly around one of his legs. When animal control officers noticed a foul smell coming from the leg, they rushed him directly to the vet. When the vet removed the tape, a real mess was found underneath. Ruban had a large, oozing wound there that was severely infected. The duct tape had made matters worse because it had been wrapped so tightly. Xrays showed that the leg was not broken, but Ruban was clearly in pain from his injury. He was kept at the vet for a few days for intense treatment, and thankfully the wound started to heal. Ruban was then taken to Hamilton Animal Control to wait out his stray time. When no one came forward to claim Ruban, we were happy to rescue him when a foster home opened up.
Ruban was neutered and blood tested at our vet. His blood work came back FIV positive, but FIV isn't the horrible affliction it has been made out to be in past years. Yes, the virus can affect Ruban's immune system down the road, but most FIV positive cats live healthy, long and happy lives. And despite past beliefs, they can live with other cats who are not FIV positive.
LEARN MORE ABOUT FIV
Here's a report from Ruban's foster home:
"
Likes: vigorous pets, heights, following his humans around.
Dislikes: none known
Ruban is a very affectionate, cuddly and handsome boy. He has hideouts throughout the house but comes running if he thinks some pets are in store for him. He likes vigorous head rubs and tends to get so enraptured that he flops around indiscriminately, almost falling off whatever
surface he's on. It's pretty funny. He can be playful and mischievous and likes to chase random objects around the house, but is pretty relaxed most of the time, lounging around watching his humans go about their business. He is the classic lay on your keyboard, book or newspaper kind of cat, but he's so cute about it that you end up abandoning whatever you're doing to give him a pet. He is unable to meow, and instead gives a quiet 'squeak' whenever he wants attention. No 3am wakeup calls with this guy. He was skittish at first, and still is sometimes if you move too fast around him but I think that will pass with time as it didn't take long at all for him to warm up to us. He's very leggy, and a little on the thin side, but he's not picky about food so should fill out soon. His coat however, is very sleek and shiny. All in all an adorable, fun and affectionate cat. How he ended up a stray is a mystery!
"
In mid-June, Ruban was introduced to another FIV positive cat named Jake, who had been living in another foster home. Both cats seemed lonely for cat companionship, so we took the chance that they would get along, and they did! Jake came out of his shell pretty quickly once he had a friend to chum around with. This is what their foster mom has to say about Ruban and Jake together:
"Ruban and Jake are extremely loving and social cats. They were both a little bored on their own in separate foster homes so we are thrilled they have been brought together. They have quickly become little buddies. They tussle about, eat well together and love to follow around their humans for snuggles. If you pet one, be prepared to also pet the other! They are both playful, but low maintenance cats who spend a fair amount of time lounging about in their favorite spots. Not picky at all about food and are ok with sharing one litter box. Let's keep these happy and perfectly healthy guys together in a forever home!"
Please adopt Ruban (and Jake!)!
---
Jake and Ruban's foster family sent these hilarious photos of the boys crashing their card game.
Jake says "No cards for you! Pet meeeeee!!!" And Ruban thought 52 Pick Up was a much better game than the one that was going on…