APPLY TO ADOPT Jon Snow
---
Jon Snow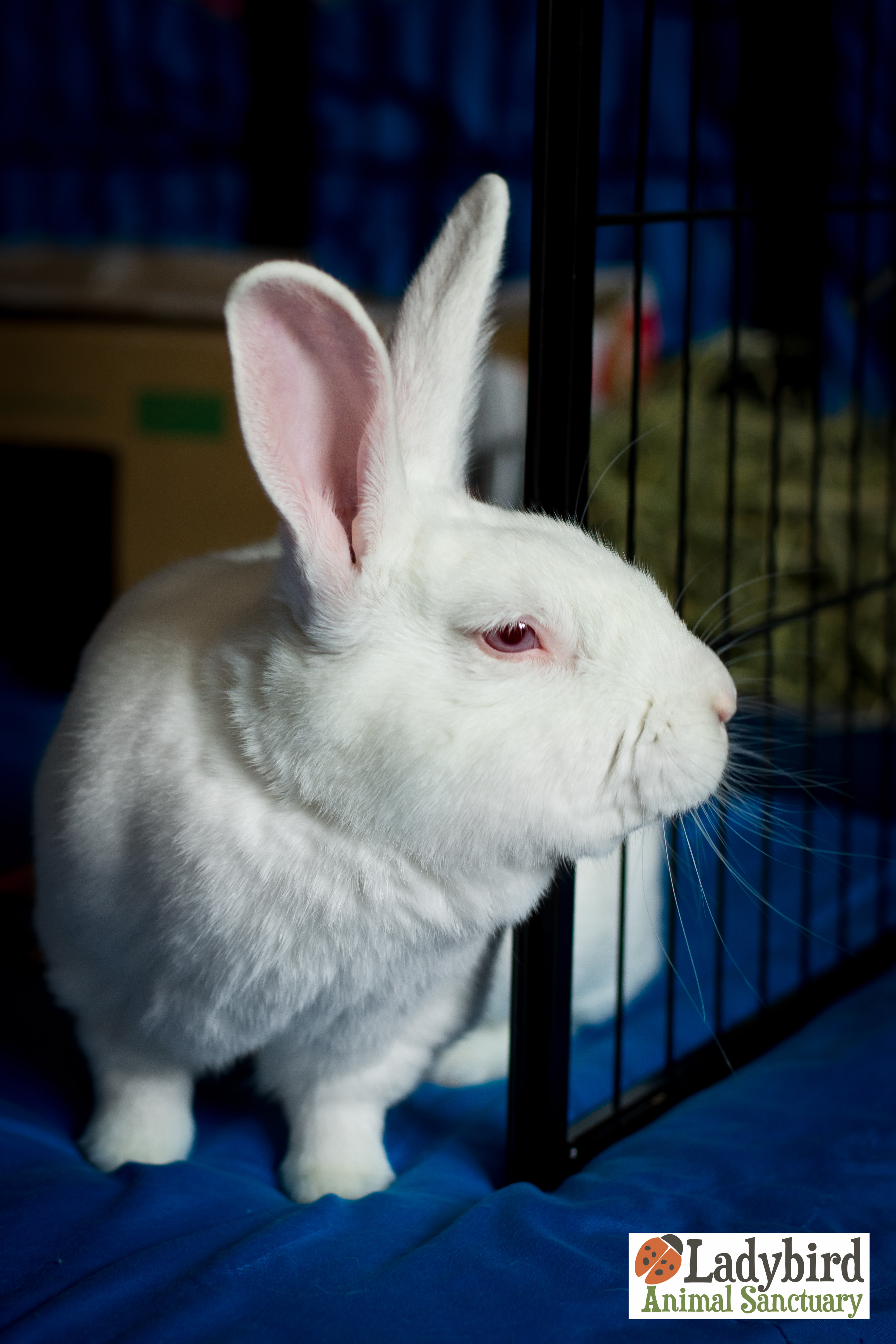 STATUS: Adoptable AGE AT ARRIVAL: Young Adult ARRIVAL DATE: July 29th, 2017 SPECIES: Rabbit BREED: New Zeland GENDER: Neutered Male LIKES AND DISLIKES: ADOPTION FEE: $75 NOTES:
Jon Snow came into Hamilton Animal Control as a stray. This poor guy was in pretty rough shape when he arrived. He was very thin and his fur was in terrible condition. During the two months he spent at HAC, he put on weight and his fur regained its softness and shine. When a Ladybird foster home opened up, we were happy to get Jon Snow out of the shelter and into a safe place where he can continue to thrive.
We had Jon Snow neutered, and now he's ready to find his forever home!
Jon Snow's foster home attempted to bond him to another adoptable rabbit named Grace, but things didn't go as well as hoped. They enjoy each other's company while on opposite sides of an x-pen, but don't get a long when face to face. So, they're both available for adoption individually.
Here's what Jon Snow's foster home says to say about him:
""Mr. Personality" is what I call Jon Snow. Although he responds very well to "Snow" or "Snowy" and when he is naughty… he certainly understands, "No, Snow!" What a character!
He came to his foster home timid and terrified. He would cringe when tried to touch him… but things sure have changed with loads of love and attention. I would keep this bunny in a heartbeat if I didn't already have a home full of rabbits. Jon Snow is the sweetest rabbit you will ever meet! Snow is a big boy. I also call him "Thunderfeet" when he tears through the house… you can certainly hear him coming. He loves to steal paper and cardboard, and he is so big he can grab it off tables, chairs and couches. He grabs a piece of paper and runs back into his cage or down the hallway so he can chew it up!
Snow is most active in the morning and evenings. Afternoons are for napping. Every morning he rushes to the side of his pen to be petted. He loves to be loved! I think he is more interested in that morning petting than his breakfast. Since he has spent so much time with my golden retriever… I think Snow thinks he is a dog. Whenever he is out, he is with the dog, and lately he has been bowing his head down hoping she will groom him. Sorry Grace, but I think this big white bunny is in love with my dog! They play together and lounge together. So I think Snow would be happy in a home with a friendly dog or cat.
Snow is a reluctant snuggler, but he wants to be close by at all times. He would be a good free range rabbit. He likes to roam around and returns to his cage to pee and poop. He is really easy going and is the master of the bunny flop. He is a wonderful rabbit who is looking for a wonderful home."
Please adopt Jon Snow!
---
Jon Snow had a Christmas photo shoot with the fabulous Willow Bean Photography. How sweet are these photos?!
Our fostered rabbits are housed in x-pens or similar enclosures so they have lots of room to move around when they aren't out for floor time. Commercially made pet store rabbit cages are far too small to allow rabbits to stretch out and move around with ease.
Here are some great websites outlining alternative rabbit housing using x pens and similar enclosures.
sandiegorabbits.org
hopperhome.com
therabbithouse.com
Pinterest- Rabbit home ideas
---
APPLY TO ADOPT Jon Snow