Warming Hearts Night Market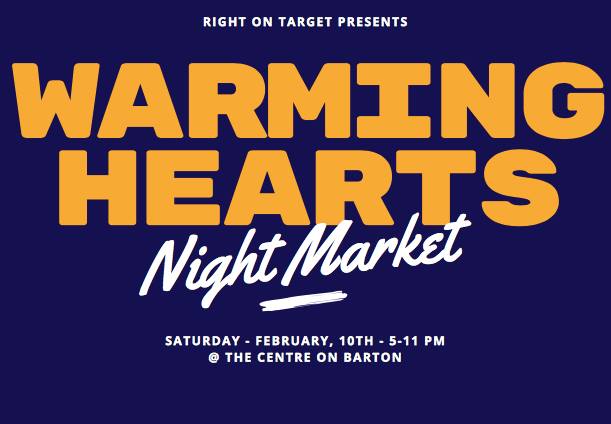 Saturday, February 10th, 5pm - 11pm
Barton Between Kenilworth and Ottawa Hamilton, Ontario
Another Night Market is coming to warm up your heart and put a big smile on your face on Saturday, February 10th with free fun activities for all, an array of vendors and much more.
Come and break that winter blah in a community organized event at the old Target building on Barton St. East. From 5 PM to 11 PM with free parking, free admission and access for wheelchairs. All ages welcomed.
Swing by Ladybird's table at Warming Hearts Night Market for some Ladybird merch and hugs! All proceeds from our table sales help animals in need in our community.
---
Roller skate
5-8 PM for kids
8-11 PM for adults
($5 skate / Other $5 for renting skates — limited availability)
Powered by Hammer City Roller Derby
Skateboard
5 -7:30 – Under 14 yrs.
7:30 – 11 PM adults demo/competition/free skating time
Free with some skateboards available plus help/instruction for learners
Powered by Kiwanis Boys & Girls Club and Skatelife
Messy Play
5-7:30 PM – Tactile and messy activities for toddlers
(18 months and up) Free
Powered by Messy Play Studio
Yarn Bombing
5 -11 PM People can bring yarn and needles and just take part.
They will knit and crochet pieces to cover some of the pillars in the space. Free
Powered by Surprise! Hamilton
Mambo and Salsa Dance
5:30 AND 9 PM – 30 minutes of dance with instructions – no need for partners – Free
Powered by Alegria Dance Company
*Plus DJ + baked goods + Dirty South Food + beer + interactive murals/photo booth
FREE ADMISSION – FREE PARKING – WHEELCHAIR ACCESSIBLE
---
LOCATION