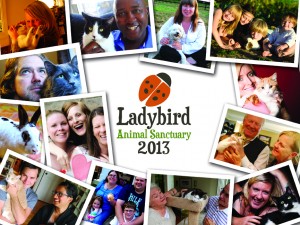 Ladybird has put together a beautiful 12-month wall calendar for 2013 highlighting some of our successful adoptions over the past two years. We invite you to purchase your copy today. All proceeds will go to helping animals in need in our community.
Calendars are available at the following locations:
Blackbird Studios: 161 James Street North, Hamilton
Paw-La's Pride and Groom: 41 Rymal Road West, Hamilton
Munchies Coffee House and BARKery: 1000 Upper Gage Ave Unit #4, Hamilton
The Cat Clinic: 391 Concession Street, Hamilton
Fox Creek Vet Clinic: 2501 Third Line Unit 12, Oakville
Many thanks to all of our kind supporters in 2012 and beyond! We could not have done this without you.
All the best to you an yours in 2013.
With warmth,
Janine, Melissa and Lisa
---
SPECIAL THANKS TO
Rick Warner, The Community Fund Raiser
Janine Stoll, design and layout (www.janinestollmedia.com)
Lisa Winn, photography
Melissa McClelland, campaign chair
Emma-Lee, photography (www.emma-leephotography.com)
Marsha Z, photography (www.facebook.com/pages/BLACK-RABBIT-PHOTOGRAPHY/166905447501)
ADVERTISERS
Moksha Yoga Hamilton
National Service Dogs
de la sol yoga
The Cat Clinic
Paw-La's Pride and Groom Inc.
Fox Creek Animal Hospital
Rebel's Rock Irish Pub
CONTRIBUTORS
Ed, Sue and Lucy McClelland
Emma-Lee and Gordie Doty
Aldridge family and Oliver
Benjamin Bunny
Jordan, Nandini and Penelope
Marsha Z, Geneva and family
Sarah Doucet, Lela Kouyoumdjian and Luna
Darcie and Ollie Smith
Applewaithe family and King Tut
Apted family and Alice
Monica and Levon
Andrew and Tippy