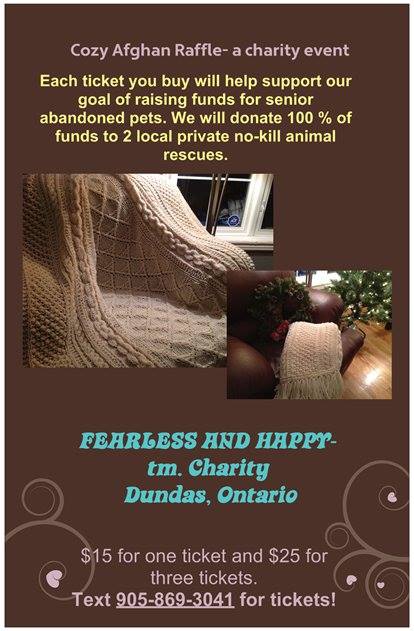 You could win this gorgeous, hand-made afghan, and help raise money for at-risk animals at the same time!
The lovely folks at Fearless and Happy Charity are having a draw for a chance to win this beautiful afghan.
The draw will take place June 1st, 2017
Tickets can be purchased at the following locations:
1) Pet Valu Dundas, 86 Main Street , Dundas, ON
2) Global Pet Foods, University Plaza in Dundas, ON
3) Global Pet Foods, Dundurn Plaza in Hamilton, ON (as of March 1)
You'll also be able to purchase tickets at our Paint Nite at Munchies Coffee House & BARKery this Saturday February 11th, and at the Paint Nite at Collective Arts Brewing on April 22nd.
Or you can purchase tickets through the Fearless and Happy Facebook page.
Or text 905-869-3041 for tickets.
100% of ticket sales will be donated to Ladybird, and other local animal rescues.
Big thank you Fearless and Happy Charity for putting on this fundraiser!