HOW TO HELP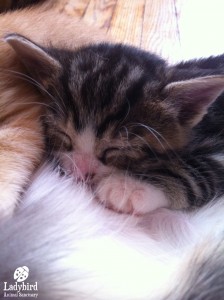 Ladybird Animal Sanctuary needs your help! There are many ways to be part of the Ladybird mission. You can make a one time donation or become a monthly giving Ladybird Member through CanadaHelps or by sending a cheque donation through the mail. You can also make a contribution to our Buy a Brick campaign to help us build our dream sanctuary. Ladybird gratefully welcomes donated items, such as: blankets, cages, leashes, collars, dog and cat treats, toys, litter boxes, food and water dishes, pet food, pet litter, arts & crafts, and gift items (for fund raising events and silent auctions). Please click here for a list of most needed items and brands.
For other ways to help, visit the Foster, Donate, Adoption and Volunteer pages on this site.
Ladybird is grateful for your help and we welcome you to get in touch anytime if you have questions, ideas, or advice. Help Ladybird build this wonderful and hopeful community!