Noelle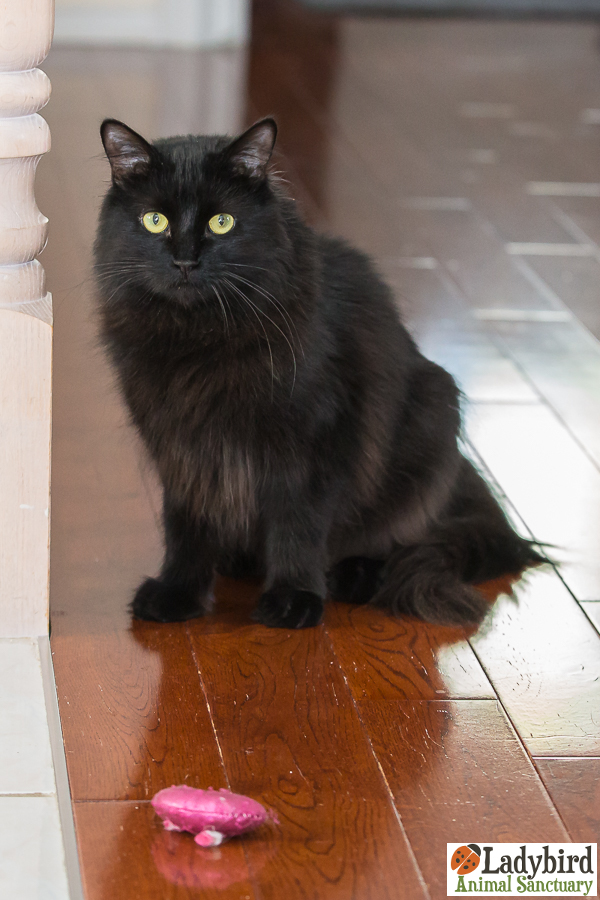 STATUS: Adopted AGE AT ARRIVAL: Approximately 1 year old ARRIVAL DATE: December 20th, 2016 ADOPTION DATE: September 15th, 2017 SPECIES: Cat BREED: Domestic Long Hair GENDER: Spayed Female LIKES: DISLIKES:
* Noelle found her forever home with lovely people! *
We rescued Noelle from Hamilton Animal Control. Noelle came into HAC as a stray. She's a sweet and active girl, and so pretty! Noelle had a visit to the vet to be spayed, and all went well. She's now settled in at her foster home and ready to be adopted!
Here's a note from Noelle's foster home:
"Noelle dahling is one fantastic unique little girl!
She is a sweetheart and she LOVES to run and play!
She chases her treats and toys and she loves to be where her people are. She is so curious and independent. She loves windows, and exploring anything new. Her very most favorite thing is to play games with her humans. She sleeps peacefully near your feet and lies calmly waiting to greet you when you come home. She is a visitor greeter. Noelle can respond very well to learned words, including her name and she will converse with you too! Sometimes, she's like a dog! Noelle will steal your heart! Oh! And she has THE best wiggle in her walk, ever!"
In early March, Noelle's foster mom noticed that she wasn't eating and didn't seem to be herself. She took Noelle to the vet and by the time they got to the clinic, Noelle was drooling and lethargic. The clinic decided to keep her overnight on fluids, medication and close observation. Next morning, they x-rayed Noelle's abdomen, and they could see something was not right there, but they couldn't discern exactly what the issue was. The only way to know for sure was surgery, so they opened Noelle up. The vet called us after the surgery to report that they had removed what looked like the foot of a plastic action figure from her stomach. (!!)
We don't know when, how (or why!?) Noelle ended up ingesting such a thing, but we're so glad she got through this ordeal and she's now back to her happy self. Big thanks to Noelle's foster mom for noticing there was something wrong and getting her help before things got worse. Noelle's adopters will need to keep an eye on her to be sure she's not chewing or ingesting anything she shouldn't be.
Please adopt Noelle!