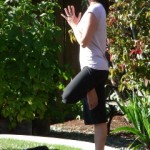 We are celebrating our first year of great success with a stunning calendar that puts animal and yoga lovers from across Canada in sharp focus. Pet + Pose 2012 is a fun and beautiful celebration of our love for yoga and our favorite furry friends. For each month, this calendar will feature a different photo submission from a fellow yogi and their beloved pet.
To order your copy, please make a minimum donation of $20 per calendar by clicking the button below. If you would like multiple copies of the calendar please donate, then email us with your request to ladybirdanimalsanctuary@gmail.com. We'll send you a confirmation with your order soon to follow.
All proceeds go to helping animals in need.
Calendars also available at the following locations:
De La Sol Yoga
430 York Boulevard Hamilton, ON L8R 3K8
Shanti Yoga
344 Main St W Hamilton, ON L8P 1J9
Spencer Creek Vet Clinic
45 Cootes Drive, Hamilton, Ontario
Yoga Sublime
20 Main St. North, Suite N Sutton, QC, J0E 2K0
Yoga Loft
8500 Torbram Rd # 57, Brampton, Ontario, L6T 5C6
Tula Yoga Central
30 Duncan St. (Duncan/Richmond) #102 Toronto, Ontario, M5V 2B8
Tula Yoga West
956 Bloor St. W. (Bloor/Ossington) Toronto, Ontario, M6H 1L6
Tula Yoga South
47 Fraser Ave. (Liberty Village) Lower Level, Toronto, Ontario M6K 1Y7
Congratulations to the 12 Pet + Pose winners and a big thank you to everyone who submitted photos. Come back soon and visit our site to see all the wonderful photos that trickled in over the summer. And get your cameras ready for next years contest!
Namaste,
Melissa, Lisa and Janine
WINNERS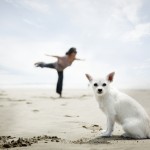 COVER: Josephine and Shanti
Vancouver, British Columbia
My name is Josephine Chan and my furry friend is Shanti and we live in beautiful Vancouver! I've been practicing yoga for almost 10 years. I LOVE yoga! Every time I enter the studio, I feel that I've entered my sanctuary. The world slows down and I immediately feel grounded. We bring our yoga and our little Shanti (Chihuahua X Westie) outside to our stunning BC landscape. We took these three pictures on Wallace Island, just between Galiano and Saltspring Island, on a sailing trip at the end of June 2011.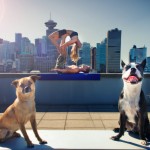 Sarah, Jeff, Ninja and Bento
Vancouver, British Columbia
Ninja is an amazing little ball of Boston Terrier energy and Bento here is his pal, who is the Yin to Ninja's Yang-like demeanor. This sweet city scape photo was taken on top of a historic Gastown rooftop on a lovely Friday afternoon over looking our well known attraction the Sears Tower and Canada Place Sails! Jeff is a local athlete, friend, photographer and film/tv peep and very active in his community. My name is Sarah Jamieson and I am a local social philanthroprenuer, Yoga teacher and movement and performance coach here in Vancouver BC and we both had a great time bringing this creation to life.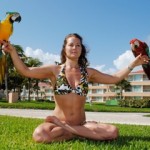 Rhianna and parrots
Toronto, Ontario
My name is Rhianna Keon and I was born to avid animal lovers. Many kittens were born on our doorsteps. Over the years, the Siamese cat and her kittens, the Boxer and the 3/4 Wolf-Husky's and their occasional puppies, the Parrots and the Fish became valued family members. I began practicing asana in 1996. I live in Toronto and through the encouragement of loved ones have been teaching yoga since 2003. You can see what I'm up to at www.rkyoga.net. This image was captured in Cancun Mexico, by Carlos Giil and Arturo Sladana Sangabriel.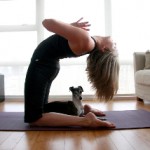 Maren and Dyamond
Vancouver, British Columbia
My name is Maren Harman and I am from Vancouver, British Columbia. Dyamond is a ten year young Italian Greyhound that my husband and I have had since she was a puppy. Dyamond loves the sticky yoga mat under her paws and immediately comes in for a down dog when the mat unrolls. She finds a way to be a part of any yoga pose just to be on the mat as shown here in a Camel pose backbend. Dyamond has dreams to become a therapy dog. This photo was taken by one of my best friends Mavreen David.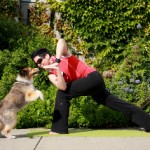 Isabelle and Pixel
Vancouver, British Columbia
Happiness for me is when what I THINK, SAY & DO are in harmony and Yoga is my guiding light for that. Yoga is my sanity, my balance, my muse. Meet Pixel, LeapZone Strategies "Customer Care Agent" and official "Welcoming Committee". What' happiness for PixeI? Just to be with me…(outside with a stick for hours preferably!) I love you, my furry little friend.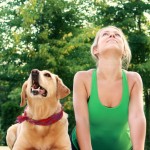 Carly and Madison
Hamilton, Ontario
My name is Carly King and I am an Energy Exchanger at De La Sol Yoga Studio in Hamilton, Ontario. I am entering my third year of study in Naturopathic Medicine and have a strong passion for yoga, nature and pets, so I included all of these in my photo. My lab Madison, who also loves the outdoors, takes any opportunity to play and stretch. This photo was taken by my sister, Bre King, an aspiring photographer, who also shares a love of yoga and pets. www.delasolyoga.com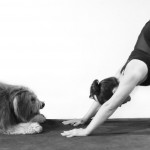 Sophia and Bakley
Montreal, Quebec
Downward dog with Barkley. Both Erik and I live in Montreal: it was only 4 months into our relationship that we adopted Barkley from the Montreal SPCA. Years later, he was the ring bearer at our wedding. Barkley is the star of his own show; always full of beans and mischief. It's no surprise a restful pose becomes a playful one with him. Yoga has been part of my life on and off for over a decade. More recently, I've taken up moksha yoga and find it consistently challenging, both psychologically and physically. We also rescue and foster animals out of our home and this is why I felt compelled to share two things that bring balance to my life. Photographer: Erik DeLeon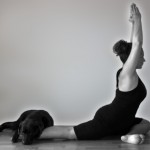 Pamela and Brandi
Toronto, Ontario
My name is Pamela Thistle and I am from St. John's, NL currently living in Toronto, ON. Here I am with Brandi, my Labrador Retriever- her favourite part of Yoga is Shavasana! Brandi wakes me up at 5:30am everyday whether I want to or not, so I never have an excuse for showing up late to anything. I cannot imagine my life without the companionship of animals. Two of my three Labs are rescues and they help keep me grounded. Yoga practice has also benefited me- especially in helping prepare for a crazy day in the hectic city. This photo was taken by my sister-in-law Kimberly Paterson.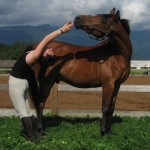 Linda and Lewis
British Columbia
My name is Linda Guanti and this is my beloved Lewis. I started doing yoga with him years ago to benifit myself as well as him. When people saw this they wanted me to teach them. I have since taken my 200hr certification and now teach Yoga in British Columbia, both human only classes and "Yoga with Horses" classes! A true inspiration. For more information, go to www.yogawithhorses.com.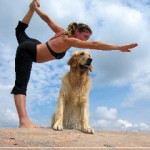 Christine and Summer
Dundas, Ontario
My name is Christine Stubbs and I am a veterinarian at Spencer Creek Animal Hospital in Dundas, Ontario. I have been practising Bikram yoga for 8 months now and like so many others have found my home. These photos were taken with my four year old Golden Retriever Summer, by my husband Mike (also a Bikram enthusiast), in one of our favourite places; a peaceful, isolated rock in Georgian Bay just minutes by boat from our cottage.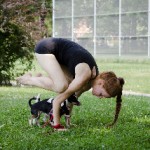 Nathanie Jean et Rambo
Quebec
Profession: Étudiante en physiothérapie
Mon studio de yoga coup de coeur: Ashtanga Yoga Montréal avec la souriante Jessie Goldberg comme professeure
Mes partenaires sportifs: Rambo et Wickette sont petits mais ils ont beaucoup d'énergie à dépenser, je cours avec eux plusieurs fois par semaine sur le Mont-Royal pendant la période estivale et ils m'accompagnent pendant mes séances de yoga dans le parc. Yoga pour la vie.
Amanda and Family
Saskatoon, Saskatchewan
Our family has fun doing yoga together and Ollie often likes to take part too! This is a shot of all of us doing cobra pose at home in Saskatoon, SK- photo credit goes to dad, Tim Brown. Left to right is Keira, age 5, mom-aka Amanda Plante, Ollie, age 3, and Finnegan, age 7.
HONOURABLE MENTIONS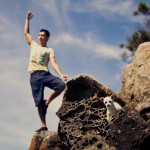 Ian and Shanti
Vancouver, British Columbia
My name is Ian and I've been practicing yoga regularly for the last 2 years, prior to that it was only once every two weeks. A wise yogi I meet in Rishikesh, India pointed out that such an infrequent practice was "just enough to make it feel like torture." After that little revelation, I started much more regularly and have enjoyed a wonderful blossoming in my practice. Shanti is my first furry pet and despite her small stature, she travels with us everywhere. I insist that she be the mascot for small dogs all over the world showing humans that they can snowshoe, go for multi day hiking trips and even participate in some rock climbing (usually from the backpack though). Next time you see a small white bear (we call her our Spirit Guide) in the forest, it's probably Shanti!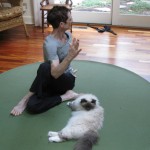 Joyce and Rosie
My name is Joyce B. Sousa. For many years I was attracted to the practice of yoga, but it wasn't until I retired that I took it up. It has brought wonderful things to my life: good people, self-care, spiritual centering and a focus on health and wellness. I am a watercolor artist and love to paint. I also love my computer, my iPad, the garden, and the pleasure of reading. My companion on the mat is Rosie or, as we call her, Savasana Rose. Rosie is 9 years old and took to Yoga immediately. She is ready and eager at our morning sessions and seems to me to think of them as our special time together.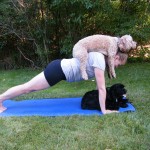 Natalie, Napoleon and Louis
Hamilton, Ontario
Allow me to introduce 2-year-old Napoleon and Louis (silent "S" sound). As for myself, my name is Natalie Dies. I am currently a… ahem… 8th year University student at 25 years of age. I love to learn, and am currently in the Physician Assistant Education Program in the De Groote School of Medicine at McMaster University. When I'm not studying about orthopaedic injuries, I'm spending all my time in the woods with these two mutts of mine, and my wonderful, supportive fiancee Ryan. My passion is tennis, my life motto is "Easy Does It," and my favourite food is cereal. When I grow up, I intend to travel with Ryan, explore our heritages, and eventually persuade him to attend a couples yoga class with me. I enjoy doing Hatha yoga weekly, to lighten my spirits and enjoy the hip openers-my favourite.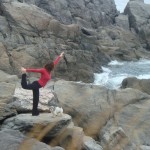 Joann and Angel
Conception Bay, Newfoundland
My name is Joann Greeley, I'm 42 and live in Conception Bay South Newfoundland. I have been practicing yoga for a year. My little 7 lb dog Angel comes with me everywhere. She loves to hike and run. We have a wonderful life. These pictures were taken at Pynn's Point in New Chelsea Nl last October. I really like the bow pose with both of us looking out to sea.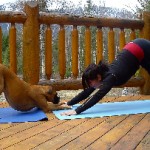 Tabatha and Zoe
My name is Tabatha Schneider-Glawe. This is me with my boxer Zoe, This was taken a few years ago, it captures such a wonderful memory of the two of us connecting out at our lodge in the mountains. She has since passed away of cancer (at 4 yrs old….way too young) but she was such a joy to all that had the opportunity to meet this special dog.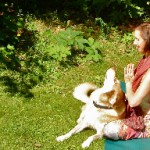 Sylvia and Toby
Vancouver, British Columbia
Sylvia, Joy of Gentle Yoga in Vancouver with Toby a dog who was abandoned and came and looked in our window, adopt me please, Both doing a Namaste prayer. Photo by Judi, dog owner and long time yogini with Sylvia. We both went to our first yoga class together and Sylvia, many years later trained at Kripalu. Judi still practices daily.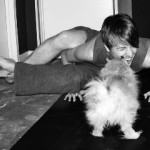 Jason and Oliver
Edmonton, Alberta
My name is Jason Morris, I am the manager of Lion's breath yoga in Edmonton Alberta and am also one of its teachers. This is a pic of me doing "crooked in 8 places" with my Pom. named Oliver coming in to say hello. I was taking some profile pics of me for our website and he just had to get in the shot. LOL. www.lionsbreath.ca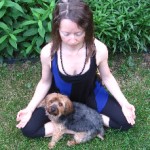 Noelle and Moka
Georgetown, Ontario
My name is Noelle Cormier. This is Moka (my 6 year old YorkiePoo) and me in our favourite pose: Sukasana in Meditation. He likes to sit in "the bowl" whenever I sit cross legged and is a welcome addition to my meditation practice outside. My Studio name is: Studio 2 for Yoga and Wellness located at 78 Main street South, Georgetown, ON. www.studio2yoga.ca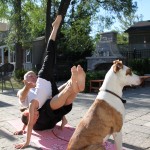 Nicola, Martin & Sophie
Here is a shot of Nicola (7 yrs), Martin (7 yrs) and Sophie ( 2 yrs from "Ugly Mutts"). Sophie is a tripod, tried to get shots of "3 legged downward dog", but did not work out. Martin & Nicola attend De La Sol.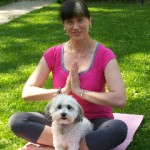 Andrea and Ozzy
Winnipeg, Manitoba
My name is Andrea Robin. I am a lactose intolerant/vegetarian yoga instructor from Winnipeg, Manitoba. I am a single mom of 2 beautiful, active children. I love people, laughing, chocolate and animals. I find yoga is best done outdoors with friends, of all kinds~hence the picture of me and my dog, Ozzy. He is a one year old Bichon/Shitzu cross who is full of joy and love and everyone who meets him adores him. He is the best example I know of "being present in the moment" and loving every minute of it. We could all learn a lot from our dogs.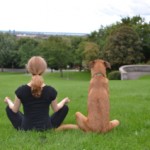 Penny and Magoo
Montreal, Quebec
My name is Penny Arsenault. Here is my dog Magoo and I in comfortably seated pose. I adopted Magoo from the SPCA a few months ago and now we go everywhere together. He is mostly blind from birth, and he is almost 2 years old. He amazes me with his his uncomplicated, undaunted spirit . I do mostly Moksha yoga now, but did Ashtanga for a long time. I am a figure skating coach, a horseback rider (dressage) and I am now 50 years old.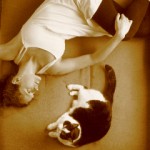 Annette and Figaro
Vancouver, British Columbia
My name is Annette Bailey and I am a Yoga Therapist and Energy Healer in Vancouver, B.C. My cat's name is Figaro, she likes to sleep, cuddle, and keep me company during my yoga practice.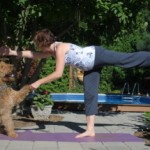 Jennifer and Kelly
My name is Jennifer Tindale. Helping me with my warrior C yoga pose is Kelly the wonder dog! She is our 10 year old Airedale Terrier and her smile in this picture sums up her attitude toward life: JOY! My husband, John took this picture as he is our official family photographer! The photo was taken in our backyard. p.s. many dog cookies were used in the production of this photograph!!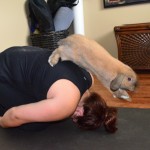 Laura and Sabrina
Hamilton, Ontario
My name is Laura Mark. I am 25 and have been practicing at De La Sol Yoga in Hamilton for the last 2 years. I am an animal lover and am owned by my rabbit Sabrina and my horse Charlie. I just finished a Masters in Industrial Relations and in my spare time I love to read. Sabrina is a 2 year old Holland Lop that I have had since she was a baby. She gets to free roam around our house and always seems to find a way to get into trouble! She doesn't usually go into our family's yoga room…unless it is to interrupt someone's Savasana. My dad was my photographer and my mom helped get Sabrina into place for the pictures. They both love yoga and adore Sabrina!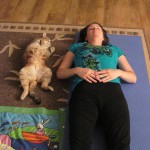 Heather and Schroeder
My name is Heather McDermid. Here's a picture of my cat (Schroeder) and our impromptu savasana.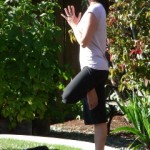 Megan and her cat
My name is Megan Bailey. This is me with my cat.
THANK YOU TO ALL THE ARTISTS AND BUSINESSES
WHO DONATED THEIR TALENTS AND SERVICES
TO OUR CALENDAR CAMPAIGN:
GRAPHIC DESIGN GENEROUSLY DONATED BY:
LeapZone Strategies
www.leapzonestrategies.com
www.leaptv.com
Love My Mat
www.lovemymat.com
De La Sol Yoga
www.delasolyoga.com
Blackbird Studios
www.blackbirdstudios.ca
Janine Stoll Media
www.janinestoll.ca/media
Lisa Winn Photography
www.lisawinn.com
Whitehorse Music
www.whitehorsemusic.ca
Mavreen David Photography
www.mavreendavid.com
Sew Strange Creations
www.etsy.com/shop/SewStrangeCreations
Such A Stitch
www.suchastitch.com
www.etsy.com/shop/suchastitch
Hot Dog's Couture
www.etsy.com/shop/hotdogscouture
Pillow Heart
www.etsy.com/shop/PillowHeart
Madame Platypus
www.madameplatypus.com www.etsy.com/shop/MadamePlatypus
Wags and Wiggles
www.etsy.com/shop/wagsandwiggles
Aunt Marie's Shoppe
www.etsy.com/shop/AuntMariesShoppe
B W Barkery
www.etsy.com/shop/bwbarkery
Pewter Earth
www.pewtergifthorse.com www.pewterearth.com